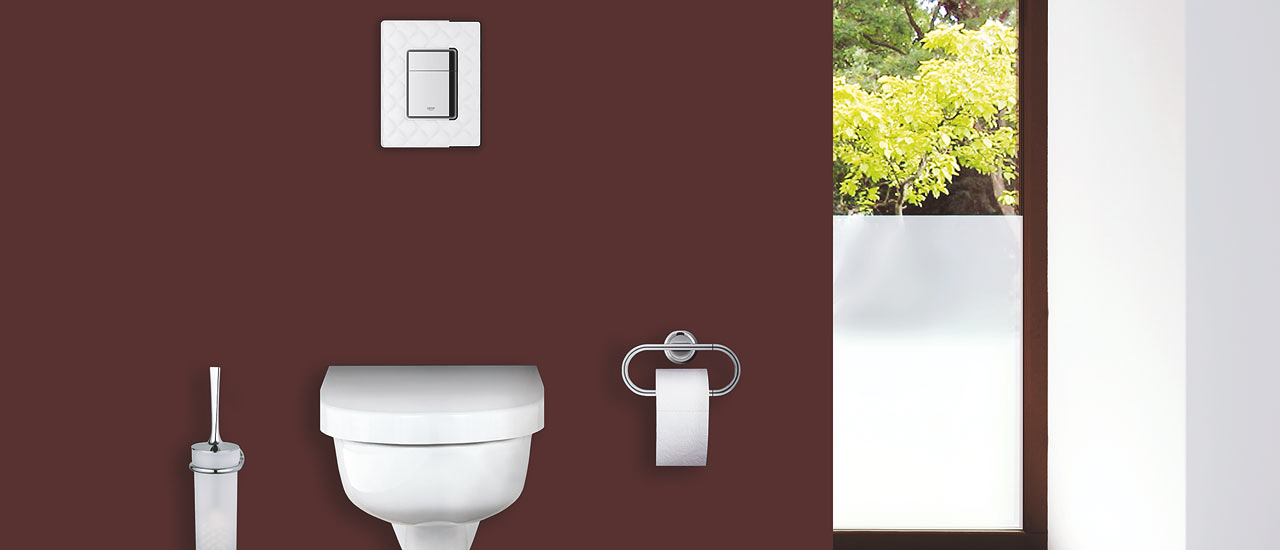 Skate Cosmopolitan
The perfect finishing touch.
Skate Cosmopolitan plates complement our brassware collections and will enhance your next bathroom project. They match our Rapid SL frames, Uniset and all concealed systems, feature GROHE EasyConnect – a single pneumatic hose for fast installation – and can even be retrofitted if required. Fixed vertically or horizontally to suit their surroundings, the majority can also be fitted with GROHE Fresh – our solution for a clean and fresh WC at the push of a button. Our WC plates feature dual-flush actuation of 6 liters and 3 liters – allowing the user to choose how much water to use. For further water saving, all GROHE cisterns can be adjusted to reduce the larger flush volume to 4.5 liters.
Skate Cosmopolitan Leather
Skate Cosmopolitan Leather flush actuation plates combine striking design with a select range of luxurious leather finishes. The palette of four neutral colors: white, beige, black or Tanin red, is available in either plain or quilted leather – for effortless coordination with a wide range of bathroom materials.
Skate Cosmopolitan Glass
As the bathroom evolves tiled surfaces continue to give way to a variety of different wall finishes. The latest addition is glass. A choice of four glass finishes includes black and white – which could be used to complement the new black and white faucet mixers in our Quadra collection. Skate Cosmopolitan Glass includes models for the WC and urinal, enabling complete coordination across your project.
Skate Cosmopolitan Wood
Timeless and enduring, few materials can rival wood when it comes to adding warmth to an interior. GROHE Skate Cosmopolitan Wood is offered in a choice of six natural wood finishes to complement the latest styles of bathroom furniture and wood-effect tiles.
Skate Cosmopolitan Print
While the design of Nova Cosmopolitan is based on the circle, rectangular shapes dominate Skate Cosmopolitan. Optical patterns are used to create three-dimensional effects, which draw attention to the purity of the GROHE StarLight® chrome actuation buttons. Skate Cosmopolitan is also available in a titanium finish featuring anti-fi ngerprint protection – making it the perfect choice for high-traffic environments.